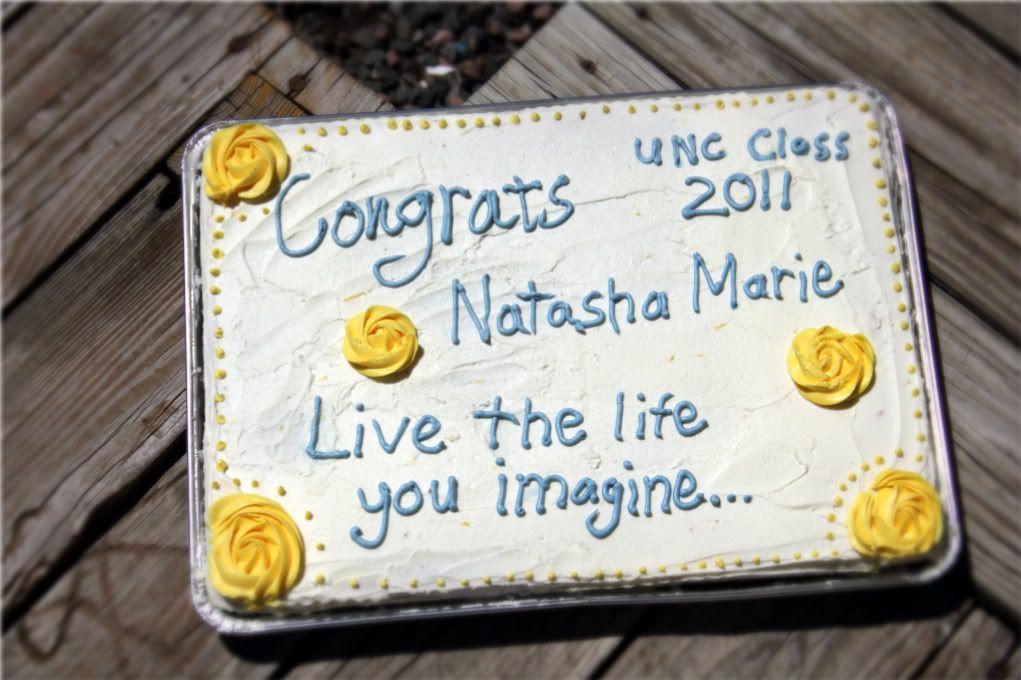 This weekend I got paid to bake! I felt pretty accomplished, if I do say so myself.
My mother in-law's friend from PT got her masters and needed a yummy cake to celebrate!
The cake was a hit, and I'm glad that everyone liked it! I could get used to baking for special occasions.
Maybe someday I'll be able to make dreams come true. 'Cause I could seriously get used to baking something every day. So, if you live in the Denver Metro area (or Salt Lake, cause I ALWAYS want an excuse to go home!) email me, call me, I'll hookasistaup. or a brotha. I wont discriminate.
oh, and this cake is also going to be the bottom tier of my brothers wedding cake. He's gonna flip. The picture below is from the first time I made this cake.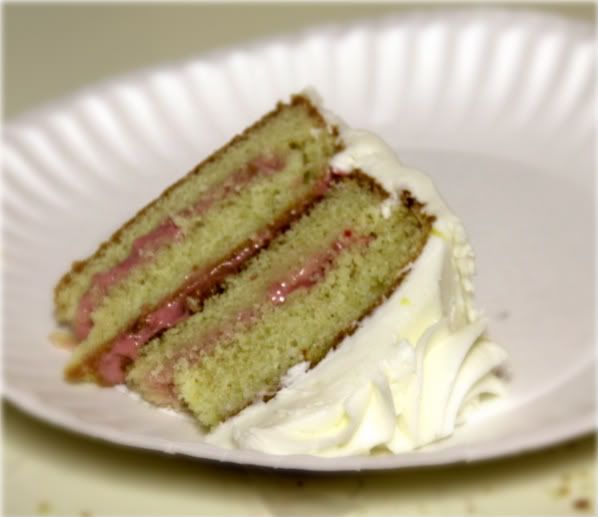 White Chocolate Cake with Raspberry Filling:
The Cake: recipe found
here
.
12 oz white chocolate, you could use the Wilton melting chocolate or white chocolate chips
1/4cup milk
2 cups all purpose flour
3/4 teaspoon baking soda
1/2 teaspoon salt
1/4 teaspoon baking powder
3/4 cup sugar
1/2 cup (1 stick) butter, softened
1 teaspoon vanilla extract
4 eggs
3/4 cup sour cream
Preheat oven to 350 degrees F.
Grease two 9-inch round baking pans; line bottoms with waxed paper (optional). - since I made a 1/2 sheet cake, I doubled the batch. one batch will fill one sheet pan.

Pour milk over chocolate and microwave until smooth at 30 second intervals.
In small bowl, combine flour, baking soda, salt, and baking powder; set aside.

In large mixer bowl, beat sugar and butter until light and fluffy. Gradually blend in melted chocolate mixture and vanilla extract. Add eggs, 1 at a time, beating well after each addition. Add flour mixture alternately with sour cream.

Pour into prepared pans. Bake 30-35 minutes (about 17 for a sheet pan) or until wooden toothpick inserted into center comes out clean -watch to make sure you do not overbake. Cool 15 minutes; remove from pans. Cool completely.
Raspberry curd filling: (I don't remember where I found this recipe. oops.)
6 oz fresh raspberries
1 1/4 cup sugar
4 large egg yolks
1/4 cup fresh lemon juice
1 stick unsalted butter
pinch of salt
Whisk all ingredients together in a pot over the stove until slightly thick, strain and then refrigerate until cold and thick.
* For this recipe I whipped up some heavy cream and added it to the cooled mixture, but either way would be delicious.*
Enjoy!